This high school student left an incredible quote in her yearbook
In a school yearbook filled with smiling faces and names, one student made sure she stood out from the rest with a truly memorable message.
Savanna Tomlinson, a 17-year-old student at Treasure Coast High School in Port St Lucie, Florida, chose to submit an unconventional quote to sit alongside her graduation photo, writing: "Anything is possible when you sound Caucasian on the phone."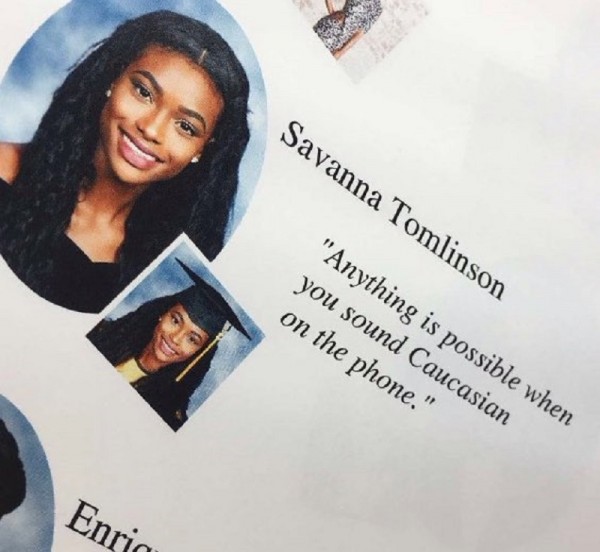 Savanna explained: "I just wanted to leave a lasting impression on my class with something that was comical but still included a bit of truth about American life."
Savanna said the quote was mainly inspired by a post she'd spotted on Instagram a few months earlier of a guy who'd apparently been given a free plane ticket and attributed it to being able to "sound white on the phone".
This is that post:
She added that it was also inspired by some experience of her own: "I realised that it actually does work when I was trying to find an after school job lol."
The response to the quote from her friends was mainly shock that she'd actually done it, but her mum wasn't so impressed.
"She asked me why I would choose that and told me she would talk to me about it later," she said.
"My mom didn't bring it up when she got home but she told me to tell my dad when I'm ready to let him see the quote."
The reaction to the photo has been massive, with many agreeing with the sentiment.
Someone also commented on the contrast between the smiling image and the cutting quote.
Messages of good luck for the future have also come flooding in.
"When I tweeted it I had an idea in my head – 'what if this goes viral' – but I must say I never expected this much attention," she said.