Fuchs lobbed a ball at Sanchez's head and it's all anyone wants to talk about
A moment of Premier League controversy involving a ball being thrown at a player's head and a questionable theatrical performance stole the show as Arsenal took on reigning champions Leicester City at the Emirates Stadium.
A Leicester throw-in in added time saw Christian Fuchs lob a ball directly Sanchez's head in frustration, yet it was the Arsenal forward who was shown a yellow card.
To be fair, there had been antics at the sidelines. Sanchez positioned himself directly in front of Fuchs, blocking him from taking his long throw. Sanchez was clearly in the way, and probably knew it, so after a few attempts at a throw, Fuchs just aimed the ball straight at his opponent.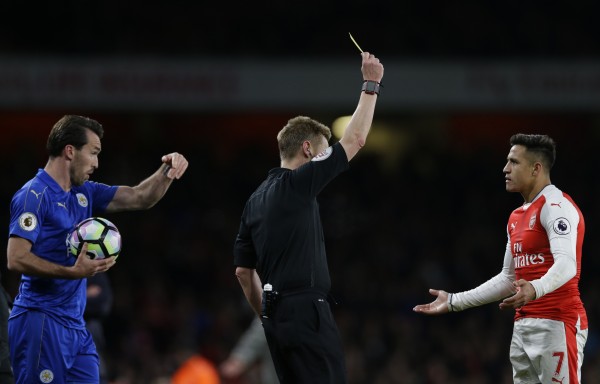 A delayed five seconds later, Sanchez writhed on the floor clutching his head. His apparent theatrics however, failed to impress the referee Mike Jones earning him a yellow card and Leceister a free kick.
The official wasn't the only one unimpressed by the performance, football fans scalded Sanchez play-acting and time-wasting too.
Though some did question the referee's decision to hand out a yellow card.
Luckily for Sanchez, Leicester weren't so lucky to redeem themselves of their earlier mishap – an own goal, the only goal, from Robert Huth – keeping Arsenal's hopes for a top four finish alive. Just about.
Sanchez later shared a photo of him nursing a swollen lip on social media, which we'll leave right here…