It was Arsene Wenger's day in more ways than one on Sunday
Arsene Wenger will arguably have experienced better days – winning three Premier League titles, reaching a Champions League final, and actually WINNING the FA Cup – but nobody could argue it didn't all come together for the Arsenal manager this weekend.
After a 2-1 victory over Manchester City set up an Arsenal v Chelsea FA Cup final, here's why it was a pretty decent day for Wenger.
Wenger reaches his eighth FA Cup final
No manager has shown more dedication to the FA Cup than Arsene Wenger, who has won the competition six times with Arsenal – nobody in history can boast more.
It looked as though the Gunners might not make it past Manchester City, but after conceding the opening goal, Wenger's men came from behind to win with goals from Nacho Monreal and Alexis Sanchez.
The 67-year-old has had his problems in the Premier League and Champions League over the last decade, but has more recently found security in the cup, a competition he won three times in four years from 2002 to 2005.
Overall the Arsenal boss has a 6-1 win-loss record in FA Cup finals, with a 13-4 aggregate scoreline in his favour – not bad.
Wenger finally has tournament success against Pep Guardiola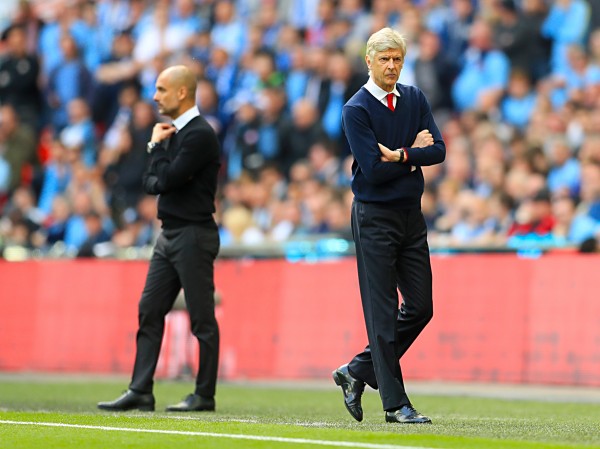 And the victory will have been made a little sweeter with a win over a rival Wenger has been bested by on numerous occasions: City's manager, Pep Guardiola.
There is not the animosity between these two that Wenger has shared with other managers, but Guardiola knocked Arsenal out of the Champions League three times in five years with Barcelona and Bayern Munich, in 2010, 2011 and 2014.
Furthermore, Guardiola's style is one that Wenger tried very hard to implement himself in north London – that Arsenal's 2-1 win means Guardiola will go trophyless for the first season in his managerial career might add meaning to the Arsenal manager's win.
The race for top four is on
And to finish a perfect day for Wenger, just hours after their FA Cup triumph the Premier League top four race opened up a little as well.
A surprise 2-1 home defeat for Liverpool against Crystal Palace means that Arsenal are nine points behind the Reds with three games in hand – victory in all three would take them level with the Anfield side on points.
Manchester United and City might be favourites ahead of them for the Champions League places, but the outlook is a lot better than it was at the start of the day for Arsenal.
To paraphrase The Simpsons' Milhouse Van Houten: Everything's coming up Wenger!