Everything you need to know about Paul Nuttall's proposed burka ban
Ukip leader Paul Nuttall has appeared on the BBC's Andrew Marr show and elaborated on the party's public burka ban alongside proposals against Sharia law. Here's everything you need to know.
What is Nuttall proposing?
In 2013, Nuttall said that Ukip would not pursue a blanket ban against face-covering veils, such as a burka. However, he now wants fines to be imposed on people who wear them in public
He said that the reversal of the decision was down to the increased security threat. He said: "Integration is actually getting worse in Britain at the moment, not better. This will help."
What are his reasonings?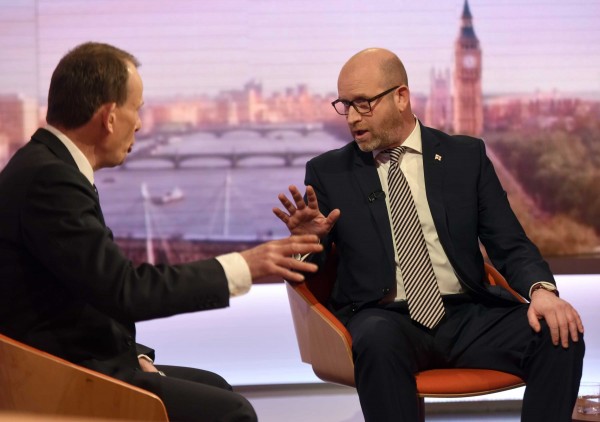 Nuttall gives two main reasons for the proposed ban: security and integration.
He said: "We have a heightened security risk at the moment and for CCTV to be effective you need to see people's faces, because whether we like it or not in this country there's more CCTV per head than anywhere else on the planet. We're the most watched and for that to be effective you need to see people's faces.
"Secondly, there's the issue of integration – I don't believe you can integrate fully and enjoy the fruits of British society if you can't see people's faces."
He denies that it's an attack specifically on Muslims, as "it's all about integration".
Why is he being criticised?
Some are accusing him of double-standards as he is not taking the same action against Jewish courts. However, Nuttall doesn't think that you can compare the two.
"The Orthodox Jewish population is falling, it's about a quarter of a million now," he said. "The issue surrounding Sharia is that the Muslim population is doubling decade on decade. It's three million now, it'll be six million soon."
Even though Nuttall denied that it is an attack on Muslims, many think that it is Ukip seeking to become an anti-Muslim party.
To this Nuttall replied: "It cannot be right we have courts or councils in this country where the words of a woman are only worth half that of a man. That has no place in a liberal, democratic, functioning western democracy."