This guy is hoping to get enough retweets to earn a scholarship to medical school
An 18-year-old from Wisconsin has shared an amusing exchange with the university he hopes to go to, where he offers up retweets in exchange for a full scholarship.
Thomas Schrauth slid into the University of Wisconsin-Madison's DMs at 11.30pm on Friday after finishing a shift at his part-time job. He asked: "How many RTs for a full ride to your medical school?"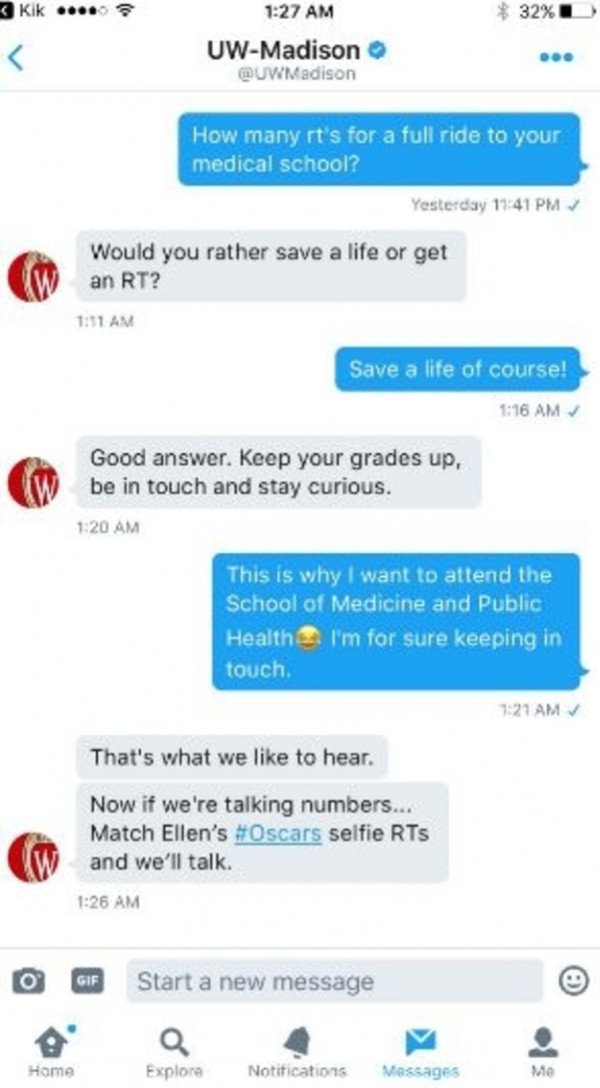 By "full ride", Thomas told us he meant a full scholarship, not an automatic place: "What kind of med student would that make me?" he said.
His current GPA is 4.0, so he has the brains to get in – just not the cash to pay for it.
Shockingly, the university Twitter account replied at 1am, sparking an amusing exchange which ended in them telling Thomas: "If we're talking numbers… Match Ellen's #Oscars selfie RTs and we'll talk."
Thomas told us he "couldn't stop laughing" when he saw the message and duly screengrabbed the conversation and put out an appeal for those all-important retweets. Ellen's selfie achieved 3.2 million – making it the most retweeted ever – so he's got a way to go.
He's made a fantastic start though, with 84,000 retweets in under 24 hours, including Ellen herself, and more than 92,000 at the time of writing.
"UW Madison is a great school and I have toured there before, so I hope if I do make the retweets, they hold up their end of the 'deal'," Thomas said.