These spaghetti doughnuts may make you feel slightly uncomfortable
We always thought you couldn't really go wrong with pasta, but the spaghetti doughnut may have changed our minds.
We just can't decide whether or not we actually want to eat the creation, invented by Pop Pasta in New York.
The doughnuts are made out of pasta leftovers which are then combined with eggs and cheese and fried. Traditionally, this would then be made into a pie shape and cut into slices. But instead, Luigi Fiorentino started combining the pasta pie with the iconic doughnut shape.
It does mean Pop Pasta's creation can just be held in your hand which, when it comes to not having to find a clean knife and fork, is all we've ever dreamed of. We also can see how it would be good for mess levels compared to other Italian foods.
Agh, we're just so torn. And people on Twitter seem as confused over the invention as we do.
Fiorentino is an architect/designer from Italy who moved to Brooklyn about 20 years ago. He started cooking at the age of 15 and says he has always been deeply interested in food innovation.
And if you reckon it would be the flavours of his spaghetti doughnuts that could persuade you to give them a try, we will say there's a load to choose from.
Red Sauce Pop combines tomato puree sauce, mozzarella cheese, parmigiano and eggs. Then there's the Aglio Olio pop, with olive oil, garlic, crushed red pepper, parmigiano and eggs, the Bolognese Pop and the Mac and Cheese pop.
The Carbonara Pop – yep, the usual eggs, parmigiano, black pepper and bacon – is probably tempting us most, TBH.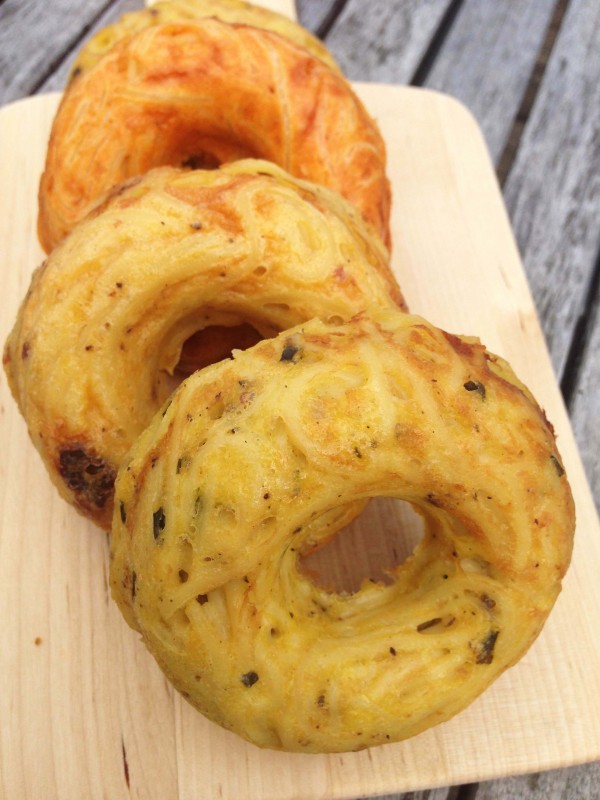 From now on, Pop Pasta will be at the Smorgasburg market in Williamsburg, Brooklyn, every Saturday,
And you know what, if we were in New York, we'd give their spaghetti doughnuts a try. No judging, okay?