Thousands turn out across Ireland for global climate strike
Thousands of people led by school children have taken part in protests across Ireland, calling for urgent action to tackle climate change.
Children and students walked out of lessons and lectures and were joined by parents, campaigners and workers as part of global climate strikes which look set to be the largest environmental protests in history.
In Belfast, organisers put the turnout at between 3,000 and 4,000, with young people taking over the Corn Market area of the city centre and staging a "mass die-in", before marching to City Hall. Large crowds also gathered at Derry's Guild Hall and in Dublin, Cork, Galway and Limerick.
In Dublin the crowds chanted constantly for about an hour, calling out "Climate Justice Now" as well as "Climate change has got to go", while they were shepherded by stewards, parents and teachers in the sunshine to a rally in Merrion Square Park.
Facing overnment Buildings, a stage was erected where a number of young speakers spoke in both English and as Gaeilge, about the effects of global warming, and what it means for the next generation.
One young protester, Rory Rusnak, 14, from Sutton Park School, attended the march with his younger sister, and held a sign saying "Tick tock Taoiseach", saying he felt he needed to send a direct message to the Irish leader.
"I think it's important Leo Varadkar act on climate change, we young people are going to inherit the earth and it's being destroyed right now for profit," he said.
"The government needs to do much more, I'd like them bring through real legislation and listen to young people about things like offshore drilling, which is a disaster for the climate and our marine life."
A view through the crowds... #ClimateStrike protestors gathered at Merrion Square, Dublin #FridaysForFuture pic.twitter.com/vKIfJGra4B

— Philip Bromwell (@philipbromwell) September 20, 2019
One mother who joined the protest, Christine McGee, said she was inspired by her children to become a climate activist.
"The students are telling us we have to act now," she said.
"Leo has to be bold, stop the fossil fuels.
"I consider myself a climate activist now, after listening to my children, who are 16, 22 and 25, and I was inspired by them.
"Greta Thunberg (the Swedish teenager who sparked a global movement with climate activism), is teaching us all the way, I think she is the best."
Thousands protest in #Belfast #climatechange @irish_news pic.twitter.com/lIGHhA8VKm

— Mal McCann (@MalMccann) September 20, 2019
Organisers claim that around 100,000 people have taken part in a rally in central London, with more than 20,000 thought to have marched in Edinburgh and 10,000 in Brighton as crowds flocked on to the streets around the UK.
In London, Labour leader Jeremy Corbyn told the youngsters in the crowd that "you and a whole generation have brought the issue centre stage and I am absolutely delighted about that".
He criticised US President Donald Trump for his failure to act on climate change and had a message for Brazil's President Jair Bolsonaro that he wanted to work with him to preserve and protect the Amazon rainforest.
Green Party politician Caroline Lucas was also present.
She told the PA news agency: "It feels like there is a real uprising. It feels like there is a real sense from young people in particular that they simply won't wait any longer.
"It is their future that is at stake and our generation, my generation is responsible for not having done nearly enough to address that.
"They have enormous moral authority when they tell us that."
One of the protesters, Jessica Ahmed, 16, from Barnet, north London, said: "School is important but so is my future," and called on the Government to acknowledge the severity of the climate crisis.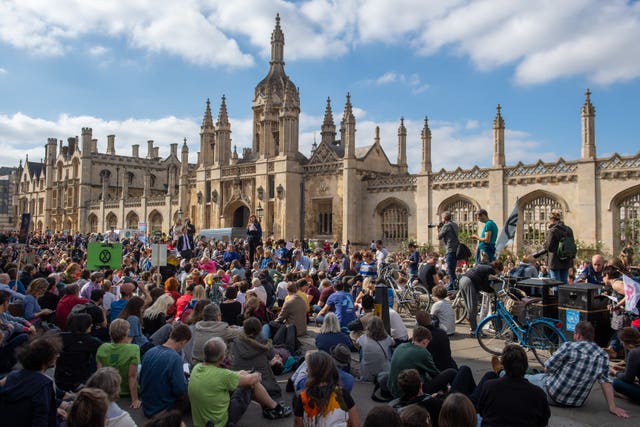 "If politicians were taking the appropriate action we need and had been taking this action a long time ago when it was recognised the world was changing in a negative way, then I would not have to be skipping school."
In Belfast, organisers put the turnout at between 3,000 and 4,000, with young people taking over the Corn Market area of the city centre and staging a "mass die-in", before marching towards City Hall.
Thousands of protesters, including hundreds of children, many wearing school uniform, gathered in Birmingham's Victoria Square before marching through nearby streets.
Some of Friday's first protests were held in Australia, where an estimated 300,000 people gathered at more than 100 rallies calling for action to guard against climate change.
Demonstrations were also being held across parts of Asia, Africa and in European cities ahead of rallies in the US, as part of a movement inspired by teenage activist Greta Thunberg which has snowballed into mass protests around the world.
Some ministers and school leaders spoke out against pupils missing school to take part in the protests, but London Mayor Sadiq Khan, Green Party MP Caroline Lucas and Liberal Democrat leader Jo Swinson were among those backing the walkout for the Youth Strike 4 Climate campaign.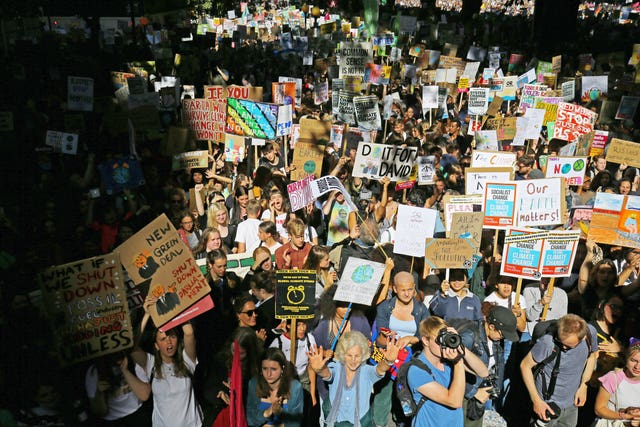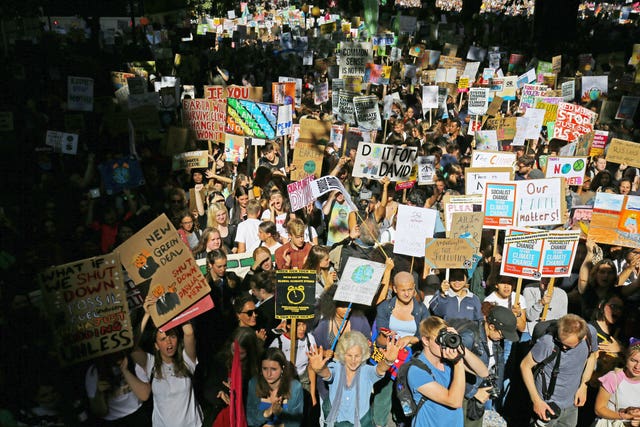 Some companies were actively helping staff take part by closing stores and offices, including Patagonia and Ben & Jerry's, whose sign on its central London shop on Wardour Street read: "Gone striking. Because ya know, the planet."
The Metropolitan Police said two adults had been arrested on The Strand in central London – where XR Universities, an Extinction Rebellion group, are holding a protest – in breach of an order dictating protesters must gather in a specific place in Westminster.
The protests come ahead of a climate summit at the UN next week convened by secretary-general Antonio Guterres to urge countries to up their climate efforts.
Much steeper measures are needed across the globe to prevent temperature rises of more than 1.5C (2.7F) or 2C (3.6F) to avoid the worst impacts of climate change.
As if to underline the urgency, as people took to the streets of the UK, the mercury climbed to well above what is normal for the time of year.
The UK Student Climate Network (UKSCN) said more than 200 events were taking place across the UK, with, for the first time, adults being encouraged to join the youngsters as they strike.
UKSCN wants politicians to bring in a Green New Deal to cut the UK's emissions to zero and improve lives, changes to education to equip youngsters to deal with the climate crisis, and votes at 16 to give them a voice.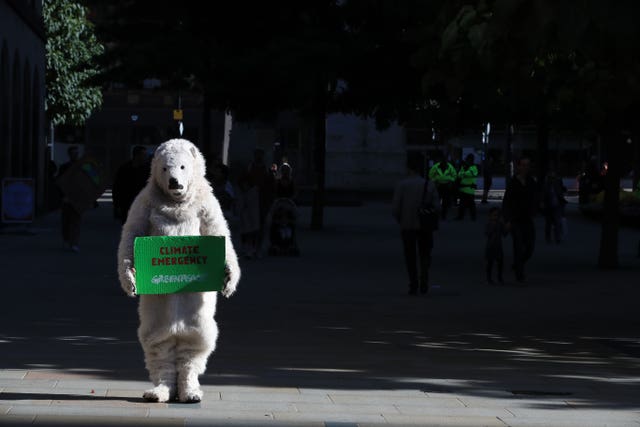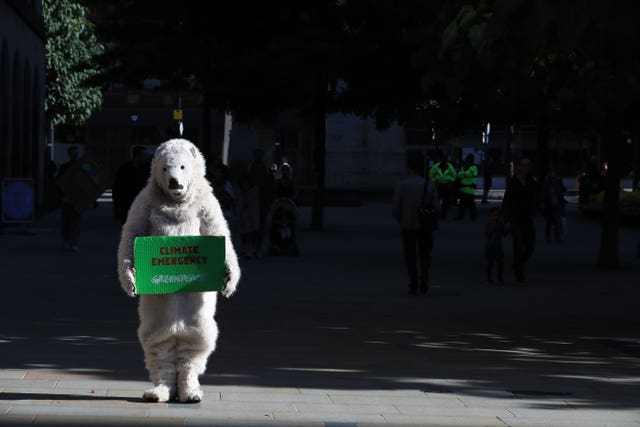 Among the many trade unions throwing their weight behind the strikes are the TUC Congress, the University and College Union and Unite, while environmental campaigners, aid agencies and faith groups joined the protests.