Arts
Books: The 'curious history' of Ireland's native dog breeds
We are a nation of dog lovers yet some native Irish dog breeds are facing extinction. David Blake Knox tells Joanne Sweeney about his fascination with his four-legged friends
YOU don't have to be mad about dogs to read David Blake Knox's latest book, but it certainly helps. The Curious History of Irish Dogs is one dog lover's historically based homage to man's most trusted animal friend.
An interesting and quirky examination of the role that dogs have played in Ireland's social and political history over the last few hundred years, Knox's book details the sad decline of nine breeds which are native to Ireland: terriers the Irish terrier, Irish Soft-Coated Wheaten, Kerry Blue and the Glen of Imaal or Wicklow terrier; gundogs the Irish Red & White Setter, Irish Red Setter and Irish Water spaniel; and hounds the Kerry Beagle and Irish Wolfhound.
Six of these breeds are now rated by kennel clubs in Ireland, the UK and the United States as 'vulnerable' or 'endangered' but Dubliner Blake Knox is hopeful that his book could help to raise interest and take them back from the brink.
"Ireland has one of the highest rates of dog ownership in Europe and our small island is now home to around 250 different canine breeds from all over the world," the author, a former RTE producer who worked on Ireland's Eurovision Song Contest programmes in the glory days of Johnny Logan, says.
"I grew up with dogs and have always been interested in dogs and in particular breeds such as the Irish Red setter. Through that, I became interested in other native breeds over the years. As I began to learn more about the breeds, I also began to learn how closely connected they were to Irish social and political history. I thought that each breed had their own story and I would like to tell it."
The popular Irish Red & White Setter, from The Curious History of Irish Dogs
The owner of a Red & White setter, Blake Knox took a year to research and write the book. He tells the individual story of each of the native breeds, starting from how they came to be bred and to be in Ireland. With that, he weaves a compelling narrative that chronicles key moments of Irish history in which dogs were very much part of the story, including when they 'saw action' in the trenches of the First World War.
While the Irish Wolfhound is seen as one of Ireland's 'national' emblems – and the Garda has traditionally had a Wolfhound as its mascot – Blake Knox reveals that the Kerry Blue terrier could have had that honour had Michael Collins not had met his untimely death in the Civil War. The IRA leader loved his own Kerry Blue dog and had drawn up plans for Dail Eireann to officially recognise the breed as Ireland's national dog.
Parnell too was a dog lover; the Co Wicklow nationalist leader insisted that his beloved Red Setter stay with him on his deathbed in 1891.
And it's not only political figures who feature: the poet Patrick Kavanagh is said to have paid a young woman for the 'rent' of her dog one day every year while Brendan Behan apparently had a habit of gathering up a stray dog every now and then in order to be able to blag his way into the members' lounge of the RDS.
Blake Knox says there is no north-south divide on the island when it comes to preference for native dogs.
He adds: "There are now more Irish native dogs living outside Ireland. I would like to see them surviving as I think they all have intrinsic beauty and they are an important link to the past. And I would be very pleased if this book was to help focus attention on our native breeds as two thirds of them are now considered vulnerable."
:: The Curious History of Dogs in Ireland by David Blake Knox is published by New Island and is available now, priced £19.99 (€20).
1916 revolutionaries' family backgrounds investigated
THEY are seven names that schoolchildren were encouraged by history teachers to assign to memory. Now a new book will help secondary pupils better understand the family backgrounds behind the revolutionaries who signed the 1916 Proclamation.
Eamonn Ceannt, Thomas Clarke, James Connolly, Sean MacDiarmada, Thomas MacDonagh, Patrick Pearse and Joseph Plunkett signed the Proclamation on April 24 1916; Pearse read it out at the GPO, marking the start of the Easter Rising; all were executed days later at Kilmainham Gaol.
Seven Signatories, by leading genealogist Paul Gorry, examines the histories behind each of their families, revealing that Connolly may have deliberately lied about where he was born and a distant family connection between Ceannt and Clarke.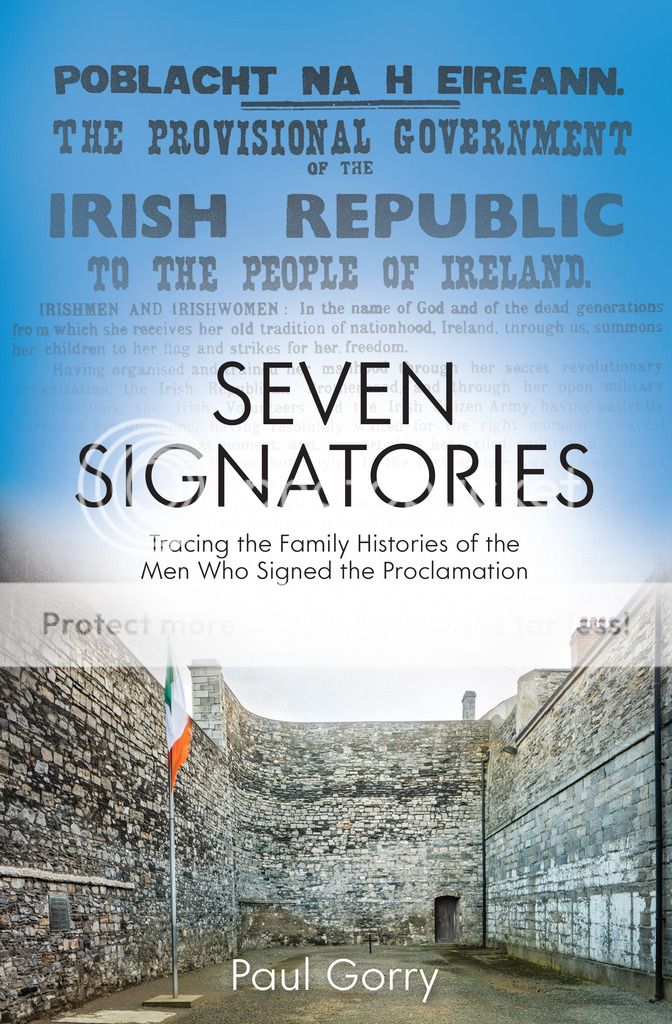 "The research was very challenging to do, as some of the families came from townlands where a lot of families shared the same surname.," Gorry said. "I turned up the fact that Connolly wrongly said in the 1901 and 1911 census that he was born in Co Monaghan when really he was born in Edinburgh. I think that it probably wasn't a mistake and perhaps he did it to make himself more Irish."
He added: "History is more interesting when it's on your doorstep or your immediate family and the book is a way of getting young people, and people in general, to be more involved in history."
The men's involvement in the Rising and its central document linked them together but the book shows that their backgrounds were quite diverse, according to the author. Clarke was born in England and Pearse and MacDonagh also had immediate English forebears; other signatories' families had connections to the RIC and British army, Connolly having served in Ireland as a soldier.
:: Seven Signatories by Paul Gorry is published by Merrion Press, available in paperback or online (€9.99).
30 March, 2017 01:00
Arts
---